Well after doing 3 days at dungy then comming home to drop bits n bobs of as well as to pic up my other rods i was off to chesil in search of a cod,but none showed up for me at chesil or dungy.

Last Monday saw me head back to chesil in search of the cod as xcweather said wind would be ok,so off i goes,gets there,gets out the car walks up the shingle bank only to be greated by an onshore wind,as you can expect there was some choice words being ranted in the air
back in the car and back home
Got back put everything away and thought sod it back to carping once again

Friday i noticed the wind was dropping so a look on xcweather as well as the met office and it was spot on,the swell would be dropping down and so would the wind,the only draw back was high water was at 535pm . arrived there before high water found a spot on the packed beach and set up 1 rod with a live bait rig on the other rig with 6/0 hooks baited with black lug and freash cuttle fish.
Casting was someone funny as everytime i was about to cast i would get a side wind hitting the lead,so id have to start again
distance with the cuttle bait was prob 80 yards max (small cuttles) The other rod was baited withjsut black lug and cast as far as i could manage.
I remember looking at the time and it was 2am and the next it was 230am(bu**er must of dozed of
)
reeled in the cuttle rod and bait was gone,so re baited and out she went,got to the other rod that had black lug on and started to reel in and thought,FFS another poxy doggie,but this didnt fight like a doggie infact it was just a dead weight on the end,got it to the surfline and had to pick my moment to beach what ever this was. got the fish onto the beach and went down to have a look and what do i see ?
I see a great big white body
Nope it wasnt a doggie
or a whitting
or a pouting
hell it wasnt even a cod
or even a codling
It was this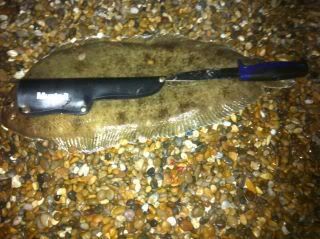 She went 3lb 13oz
thois beats my pb by a MASSIVE 11oz
Once i had knocked it on its head i gutted it only to find that is was full and i mean full of roe!!
The fish was caught at 230am and weighed again by another angler on his scales and after gutting it she went 3lb 30z
happy days
but still codless


-------------
Where are those fish!!!