went too polpero for the weekend and had my customary trip out from looe on swallow skippered by murry collins.
plan was to try and winkle out some john dorys which have turnt up just of late and also pick a few squid, pollock and whiting
so after a 10 minute feathering sesh, we chnged over to baited feathers and i had a couple of nice 2-3 lb whiting and a few pout in a couple of drifts , next we anchored up. then it was ling,conger and squid. my option was to bag up on some squid and after 2 hour i had 32 squid from 1-4lb range. all caught on a spinning rod in 180 foot of water ....great fun.
hears a piccy of some i had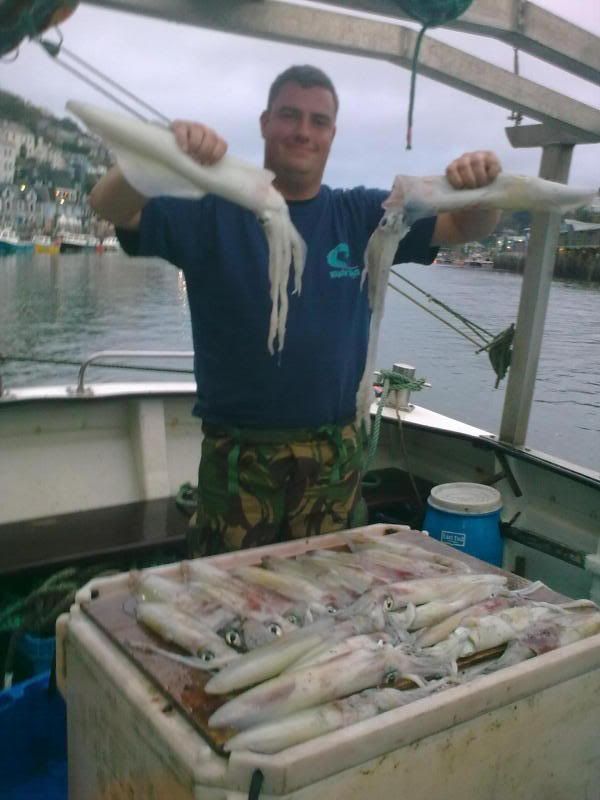 soon the tide was away and we tryed for the grand prize, the rocking horse sh*te relatives"john dory". but it was a kick in the nuts for us as after 5 drifts we only had a load of small pollock, then the squid came in and chewed up every lure we dropped down.
next we move to some pinicals in hope of bigger pollock and some ling. and we all had some very clean looking pollock upto 8lb , but that time came round all to fast and we were steaming back in to port.
yet again another cracking trip in oct for the squid and the frezer is full of tubes for dinner and heads for cod bait .
shame about the JD's but the is a reason why most people have never seen one let alown catch one. always next time as im going down there again in nov
cheers john